Ok everyone time to get serious!
I dont think you people know how serious about X-Mas I truly am. This is my first one and I am not going to let it go down as a bad one.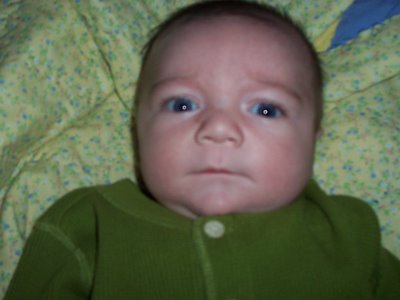 Just kidding folks I know X-mas this year is going to be super no matter what. I got a great family and a ton of friends so how could it go wrong?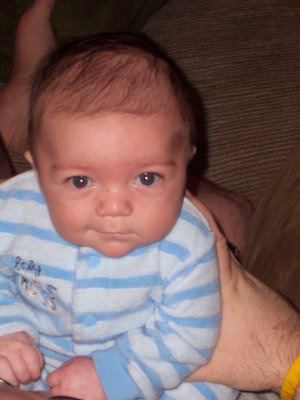 I am going to take all of you with me on a rundown of my X-mas excitment. I got to go to Crockett with my Grammie. She drove all the way to Austin to get me... I must be pretty powerful to have pull like that.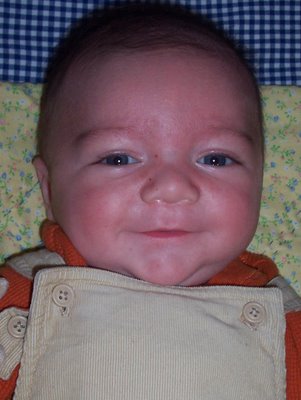 I made sure she packed all my essentials to take with me like red blankie, and Boppy , and who could go anywhere without Mr. Noisemaker STAR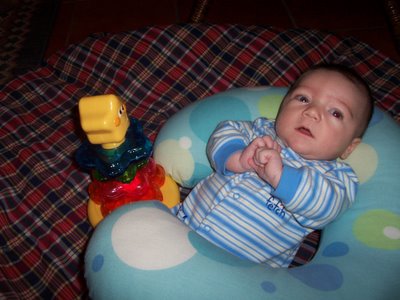 It was spose'd to be a little cold this weekend so Grammie made sure I was dressed for the cold. I am styling this years latest fashion in warm up attire. It was giving to me by Grannie from Dallas. Her and Pop stopped by early on in the week to hang out and play. I am so lucky to have so many Grandparents that love me.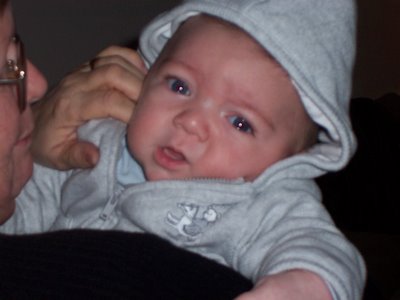 Speaking of my Grannie here she is giving me X-mas kisses.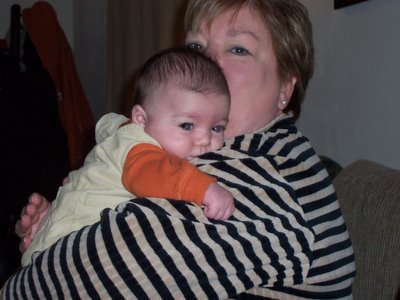 Everyone tells me that you are supposed to eat a lot at X-mas... I started with my blankie.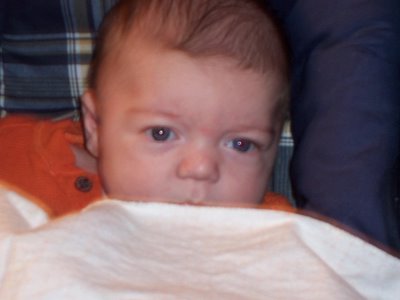 Daddy got to Crockett as fast as he could. When he did he took me all over the farm and showed me the sights in Peapaw's Scooter.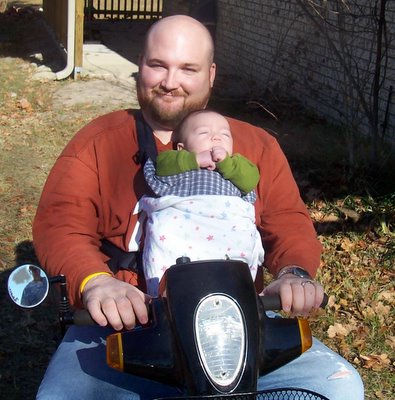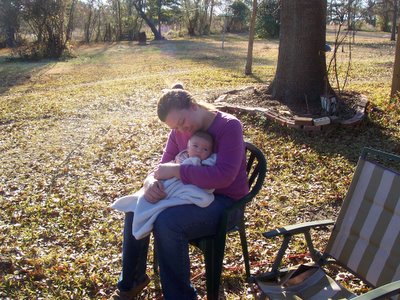 He took me over to where Mommy was hanging out with so weird looking creatures. Buffy came along to make sure nothing happened to me.
These things are strange. They eat dirt of the GROUND!!!. Not even Daddy does that!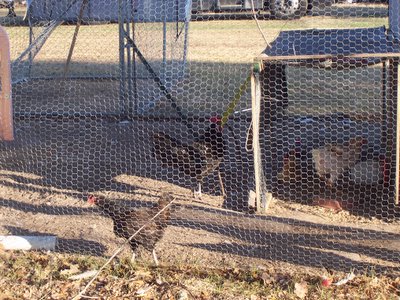 Mommy took me over to see a few of the other things on the farm. I got to meet Styx, he is Uncle Mike's horse and he is BIG... I didnt think there were many things out there bigger than both Buffy and Daddy but Styx is BIG.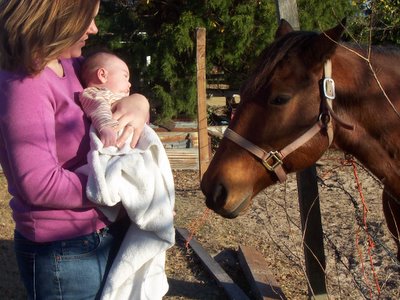 Good thing for me though is he is really sweet and likes to give kisses... his breath is a little rough but it is ok.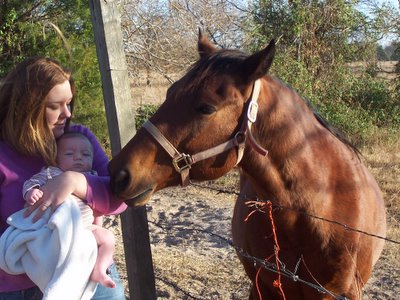 Then we headed over to see Uncle Mike's Truck, it is so much cooler than Daddy's Jeep. I want one when I grow up.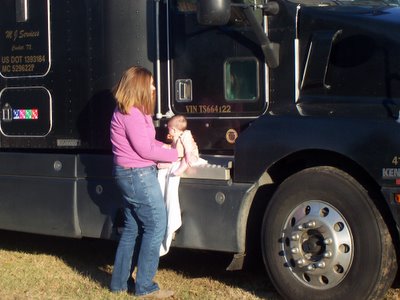 Mommy wanted to prove to Daddy that she is not a useless city girl and could make it on the farm so she decided to mow the grass. It was a good try mostly she just went in circles.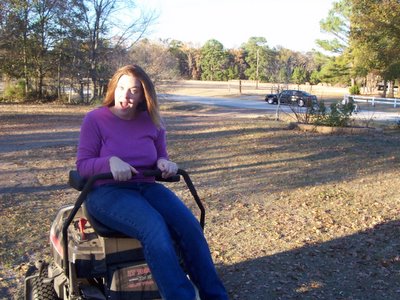 Daddy was sleeping on the couch so I snuck up on him and jumped on his belly. He was happy to see me.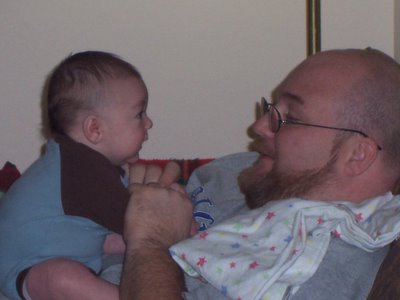 He helped me get ready for gift opening time. He picked out this little outfit and said I looked like a candy cane. I asked him what that is and he said it tasted like formula so I was not to excited.
He gave me to Mommy as a gift this year for X-mas and Mommy gave me to Daddy.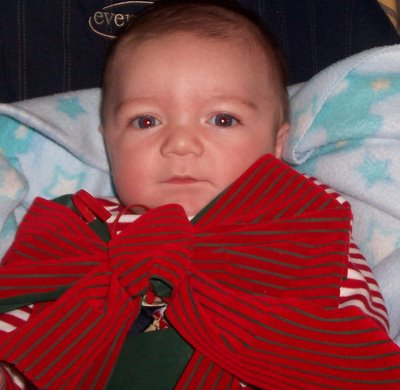 I also got to hang out with my Cousin Jessica. Daddy says he knew her back when she was my age and now she is talking about going to College and has a boyfriend. Daddy says she has to get a College education before she gets married or he is going to stomp Jansky into a mud puddle, he means it to because he is 3 times as big as him.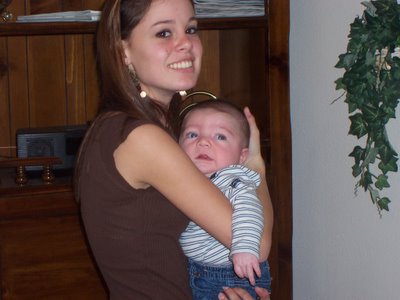 He is not worrried about my other Cousin Sara Jo yet but she is getting older too and soon boys are going to be after her. Daddy is cool with it because she is his Attorney and one of the smartest people on the planet Earth.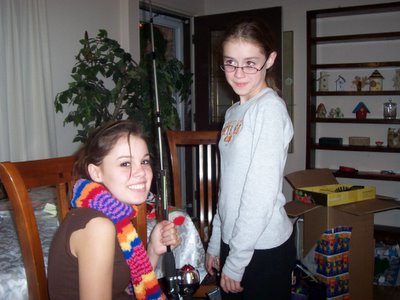 Overall I give X-mas a big thumbs up and I hope to do it again next year.